You are currently on the:
National Site
Visit our provincial websites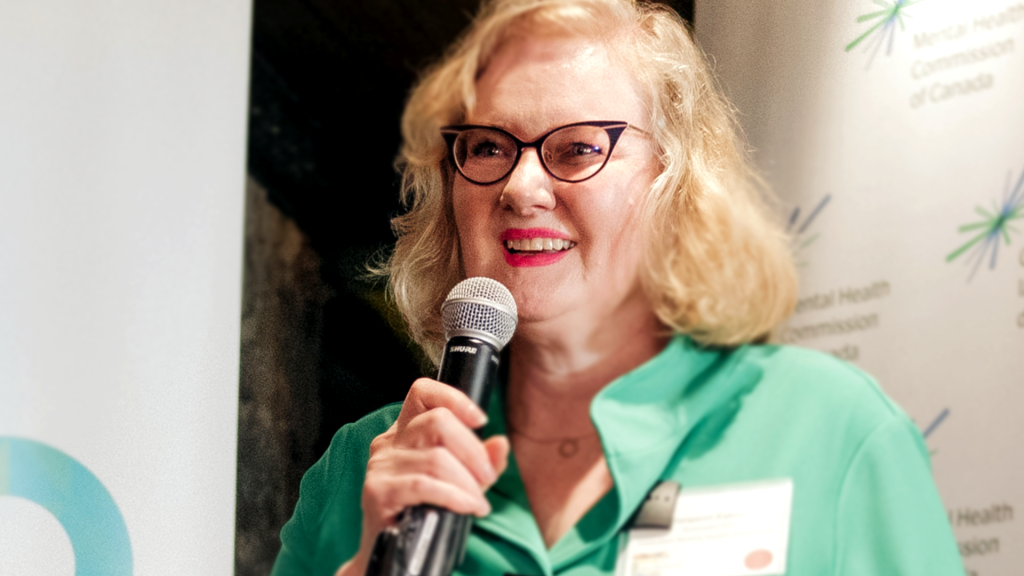 Mental health stories can change minds 
May 15, 2023
 
This is Mental Health Week. For more than seven decades, the Canadian Mental Health Association (CMHA) has used these seven days to change minds about mental health. We have made headway, for sure. But there are still many minds to change, starting with those in government.  
Mental health is simply part of health and should be treated just the same as physical health. And you know what? Most of us agree with that. A Mental Health Week poll found that 9 in 10 people in Canada say that we should all have free mental health care. A majority also said we're in a mental health crisis, and that governments aren't doing enough. So how do we get them to act? 
We might forget sometimes, but governments are just the people running them. Human beings are making the decisions. So, how do we get them in sync with the majority of us who know we're in a crisis?
One effective way is to reach them on a human level, by telling them our real-life stories. In fact, research tells us that this kind of storytelling can change the way that people think, and how they act. For instance, one study showed that people's brains synchronize with each other when they hear human stories. Another study showed that judges sentence differently when the accused shares their real story. In yet another study, stories outperformed facts in convincing people to take decisive action on climate change. So, why not on mental health?
That's why this Mental Health Week is about telling stories. Mental health stories. When we tell our stories we can influence and inspire change in other people, including in our leaders.
As part of our campaign, Act for Mental Health, we encouraged people in Canada to tell their stories to our leaders. They wrote about their lives, and their tragedies, and sent them to the Prime Minister and Ministers. And they asked us to share them more widely.
These stories might disturb you, so please don't read them if you worry that they might. For those of you who read them, maybe you'll be troubled – and moved – like I am. And maybe our leaders will be too.
A woman from Québec wrote: "This morning I have to go to work but I'm crying, I can't stop, this life just seems so hard to me, it has no pleasure, I've lost my appetite, I no longer have any desire, except to put an end to this suffering. I don't want to die I just want this suffering to stop. I decided to call 811, I spent 30 minutes waiting, I felt so alone, misunderstood, neglected. I hung up and went to the Emergency Room. I need help but I can't go to a psychologist, it's too expensive! I know I'm going to clog the ER but I have no other choice. They offered me a follow-up but given the price I can't afford it."
A man from Ontario wrote: "Every night I think about taking my own life. It is not something I can control, it's something I have to endure. I wake every morning in a total anxiety attack. It takes hours for it to calm down. I pretend I am ok, but I am not. I am broken and don't know what to do or where to go about it. Help me."
Parents from New Brunswick told the government: "My partner and I lost my stepson to suicide. He was enrolled to start a nursing program that September. He had been to a clinic and the ER at the hospital a number of times. At the clinics he was turned away at reception because they 'don't deal with mental health' and the wait time in the ER was so long he gave up and left."
Knowing the facts and the statistics doesn't move me like these stories do. People aren't statistics. Statistics don't have human faces.
These stories are so hard to read, but the research tells us that they can influence decisions made by people who have power. We simply need more funding for mental health. Much more than they're committing. Not just for doctors and hospitals, but also for services in our communities that work alongside the medical system to keep us well and help us recover. We've made it easy to share your story with the government just by visiting this page. Telling our stories helps us make sense of our own lives. It can also change minds and behaviour. Let your story spur that change.
Margaret Eaton,
National CEO
Canadian Mental Health Association