You are currently on the:
National Site
Visit our provincial websites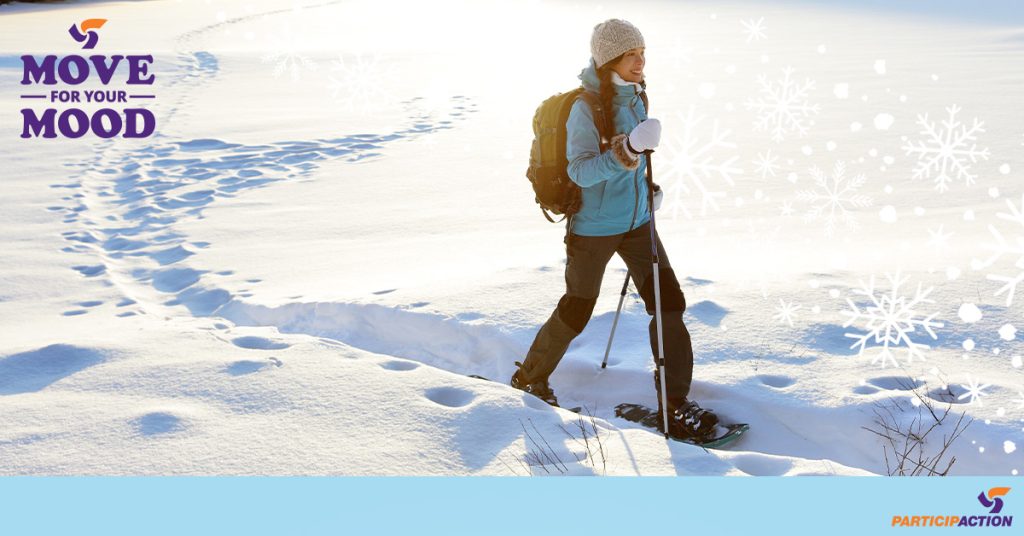 The mood-boosting benefits of getting active
Jan 13, 2023
Winter can put a damper on your mood. The colder, darker, shorter days can sap our energy and leave us feeling down. If you've been feeling sluggish, and unmotivated, and are having trouble getting out of bed in the morning, you're far from alone. In fact, the third Monday in January, also known as "Blue Monday", is commonly thought to be the saddest day of the year due to stressors like post-holiday blues, chilly and dark days, failure to stick to New Year's resolutions and the arrival of holiday bills. Although there's not much science behind Blue Monday, "the winter blues" are all too real for many of us.
There's a key difference between being in a bit of a funk during the winter ("the winter blues") and living with a clinical condition called seasonal affective disorder (SAD). SAD impacts a small percentage of Canada's population: about 2-3% of people living in Canada may be affected by serious depression symptoms associated with the season. The winter blues, on the other hand, affect more people: about 15% of people living in Canada experience symptoms of sadness or unhappiness related to the dark, cold weather.
How physical activity benefits mood & mental health
Fortunately, there's a way to lift your spirits that's within everyone's grasp: just get your body moving! When you exercise, your body releases endorphins and feel-good chemicals that reduce feelings of pain and increase feelings of pleasure, literally boosting your mood.
We get it, going outside for a walk in -20 C might not be the most appealing option. But you don't need to jog or hike in freezing weather to get all the great benefits of being active! Just 15 minutes of moderate exercise like dancing, yoga, chores around the house or just doing some jumping jacks or push-ups can provide a mood-enhancing effect. But if you can, do try to bundle up and get active outdoors. Recent studies show that people report more vitality, enthusiasm and pleasure after having walked outside.
On top of all of that, physical activity can help you cope with stress, reduce anxiety and depression, help you think better, increase self-esteem, and can play a role in preventing mental health issues. This makes getting active an essential part of our mental health toolkits!
Move for your mood today!
Want to combat the winter blues but don't know where to start? has the perfect videos to get you moving for your mood, no matter where you are in your physical activity journey. Download or open the and join the Move for your Mood challenge, taking place January 16-31. The more you move using the app, the better you'll feel. And it might just win you prizes! The app also has a range of other videos, exercise tips and challenges to make getting active fun and easy for all abilities.
*Lifestyle changes aren't always enough to beat the winter blues or SAD, and you can always reach out for support and services:
Talk Suicide (24/7)
Call 1-833-456-4566 (In Québec: 1-866-277-3553)
Visit: www.talksuicide.ca
Your CMHA
Find your CMHA cmha.ca/find-your-cmha
BounceBack
Visit www.cmha.ca/bounceback
1-855-873-0013
Wellness Together Canada
Visit wellnesstogether.ca
Text WELLNESS to 741741 or download the app