You are currently on the:
National Site
Visit our provincial websites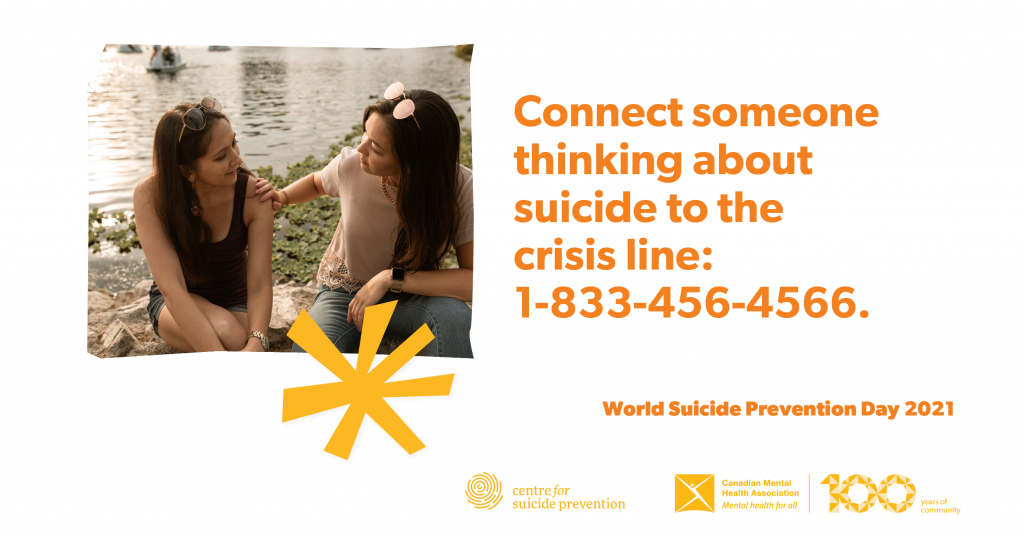 How to help someone thinking about suicide
Sep 6, 2021
By Canadian Mental Health Association's Centre for Suicide Prevention
September 10 is World Suicide Prevention Day, a day to remember those we've lost to suicide and raise awareness about how suicide can be prevented.
People who are considering suicide describe feeling hopeless, burdensome, overwhelmed, stuck, and unable to see a way out of their deep, psychological pain except through death. They may be experiencing internal conflict: they want to live but they want the unbearable pain to end.
When we reach out to someone considering suicide we can help them see that there is a way out of their pain. We can help them see that, people do care, that their life does matter, they're not alone and help is available. Even if that's not what they believe when they're in crisis,
You can be the one to illuminate hope for a person thinking about suicide.
This article will explain how to:
identify a person thinking about suicide
reach out and have a conversation
connect them to help
create a safety plan with them
support them as they move forward
Identify a person thinking about suicide
People who think about suicide typically exhibit signs that they're struggling.
Any significant change in behaviour can be a warning sign for suicide, and the more attention we give to those around us, the more alert we can be to these changes in behaviour. Active listening, for example, can help us tune in to comments that may indicate someone is struggling.
Recognizing warning signs of suicide requires a deep shift in how we've been taught to interact with others – we are rarely present enough with the people around us to recognize and respond to a change in behaviour.
Some common warning signs include:
Statements that indicate hopelessness or being a burden
Suicide threats or talking about wanting to die*
Suicide plans*
Suicide attempt
Increased substance use
No sense of purpose in life or evident reason for living
Withdrawal from friends and family
Rage, anger, irritability
Recklessness
Dramatic mood changes
*These warning signs indicate immediate suicide risk. Stay with the person who is exhibiting these signs and connect them to help. In Canada, call the national crisis line at 1-833-456-4566 (24/7) In Quebec, call 1-866-277-3553 (24/7) 
(American Association of Suicidology, n.d.)
Have the conversation
We can all work to create a safe space for someone to freely share and express their emotions through open, non-judgmental conversation and gentle questioning. We can also check-in regularly with those close to us to normalize conversations about wellbeing.
If someone you know is exhibiting warning signs, have an open, non-judgmental conversation with them. You can start the conversation by mentioning your concerns, "I haven't heard from you much these days. Is everything okay?"
Keep the conversation going by asking questions and listening to what they're saying. You don't have to offer solutions – in fact, it's more respectful if you don't.
If you're still worried about them, ask directly: "Are you thinking about suicide?" If they say yes, don't panic. Let them know you're there for them and help them access mental health pports. Call the national crisis line at 1-833-456-4566, in Quebec: 1-866-277-3553. Youth can text CONNECT to Kids Help Phone at 686868 or call 1-800-668-6868.
Focus on reasons for living
During your conversation and after the person has said that they are thinking about suicide, focus on uncovering that part of them that still wants to live. You can do this by asking: What has kept you alive so far? How have you coped with these thoughts up until now? What is important to you, or used to be important to you?
Based on your conversation and relationship with the person, you may also be able to suggest what their reasons for living might be. For example, if in conversation they mention they have a pet, caring for that pet may be one reason why they're motivated to stay alive.
Discussing reasons for living helps the person move past their state of crisis so they can be connected to further supports and, with help, craft a safety plan.
Connect them to help
Once a person has let you know that they're thinking about suicide, it's important to connect them to help, especially if you think they are at imminent risk of suicide. Even if you're not worried about imminent risk, connecting that person to help is a great way to support them: they're considering suicide in part because they haven't been able to find effective help and support for their psychological pain.
Crisis lines are often the best resource for people considering suicide. They provide free, 24/7 access to trained responders who provide a listening ear in a moment of crisis. This alone can be lifesaving: a person in crisis cannot stay in that heightened state forever. Offering them space to talk is often enough to keep them safe in the moment. Responders can also begin the safety planning process with them and can connect them with other community supports.
In Canada, the crisis line is available 24/7. Call 1-833-456-4566 anytime and at no cost.
If they have a mental health care provider such as a psychiatrist or counsellor, you may encourage them to contact their provider immediately to make an appointment to see them later that day or shortly after.
Close family members and friends can also offer support to people who are considering suicide; if you're worried about leaving someone alone, suggest that, in your presence, they contact a loved one to ask if they can spend time with them until the heightened state of suicidal crisis has passed.
It's possible that the person's family and friends don't know that they're thinking about suicide – you may be the first person they've told. Encouraging them to tell trusted and supportive loved ones could be a step forward for them in receiving support from those closest to them.
Plan for safety from suicide
Once you believe the person is no longer at risk – that they're connected to someone who can continue to support them or they've clearly told you they are no longer thinking about suicide – you may decide to leave the conversation and follow up with them later. If you'd like to continue to support them, you can start to develop a safety plan together.
A safety plan can support and guide a person when they are experiencing thoughts of suicide and help them avoid a state of intense suicidal crisis. Anyone in a trusting relationship with the person who's considering suicide can help draft the plan; they do not need to be a professional.
A person's unique strengths, abilities, and support people are identified in the plan so that they can draw on them when their thoughts of suicide begin to re-emerge.
When developing the plan, the person considering suicide identifies:
their personal warning signs
coping strategies that have worked for them in the past, and/or strategies they think may work in the future
people who are sources of support in their lives (friends, family, professionals, crisis supports)
how to remove the means of suicide from their environment
their personal reasons for living, or what has helped them stay alive in the past
A safety plan is written when a person is not experiencing intense suicidal thoughts. It may be written after a suicidal crisis, but not during.
Resource: Safety plans to prevent suicide (https://www.suicideinfo.ca/resource/safety-plans/)
Follow up with your support
In the days and weeks following your conversation, check-in with the person who was in crisis to ask how they're doing, whether they feel better supported now, and if there's anything you can do to help.
This content is adapted from Together to Live, a guide for preventing suicide in your community. Together to Live was developed by Canadian Mental Health Association's Centre for Suicide Prevention with funding from the Mental Health Commission of Canada.
Resource: Together to Live: Intervention – Learn more about how to help someone with thoughts of suicide.
If you're struggling with your mental health or having thoughts of suicide, help is available.
Call Canada Suicide Prevention Service at 1-833-456-4566, in Quebec: 1-866-277-3553.
First Nations and Inuit can call the Hope for Wellness Help Line at 1-855-242-3310 to talk to someone, or connect to the online chat at hopeforwellness.ca.
Youth can text CONNECT to Kids Help Phone at 686868 or call 1-800-668-6868.
References
American Association of Suicidology. (n.d.). Warning signs. https://suicidology.org/resources/warning-signs/
Centre for Suicide Prevention. (n.d.). Together to Live, About: Intervention. https://www.togethertolive.ca/about/intervention/