You are currently on the:
National Site
Visit our provincial websites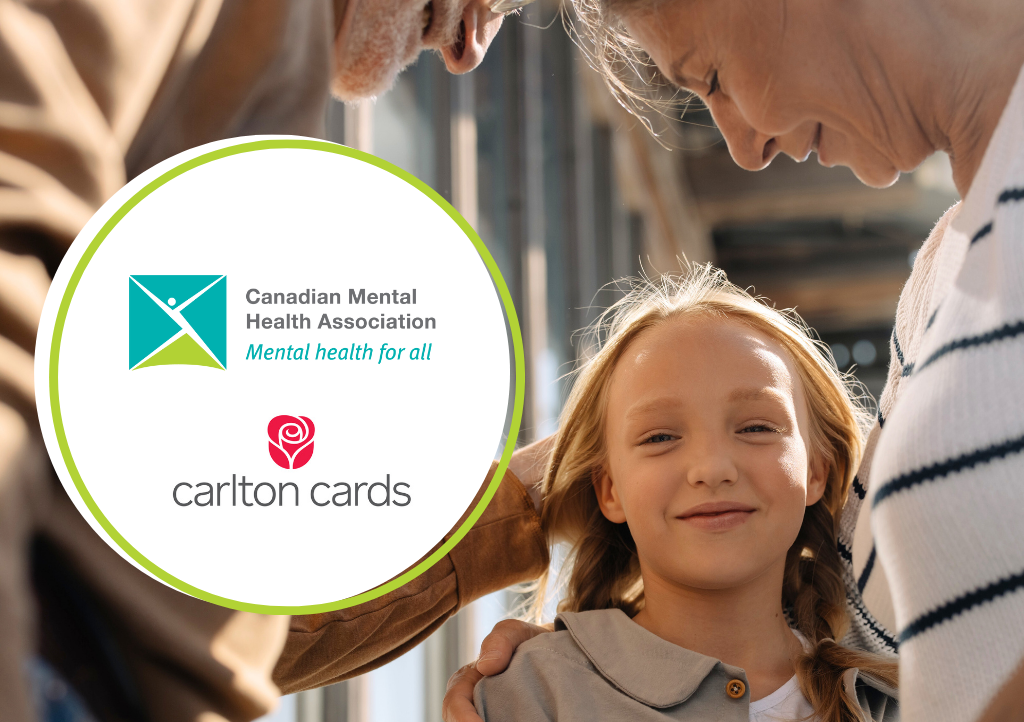 Carlton Cards supports mental health in Canada
Oct 1, 2023
Carlton Cards has announced their continued support for World Mental Health Month. For the third year, a portion of proceeds from every greeting card sold at participating retail partners in Canada from October 1- 31, will be donated to the Canadian Mental Health Association (CMHA).
"CMHA is grateful for the ongoing support from Carlton Cards. Good mental health looks different for everyone, but one thing we have in common is that we all need strong social connections to thrive," says Margaret Eaton, National CEO of CMHA. "CMHA is lucky to count Carlton Cards amongst our supporters. Together, we can help Canadians build and strengthen the sense of belonging and connection in their lives," says Eaton.
In collaboration with the CMHA, Carlton Cards has amplified the 2023 campaign to include a 31-day mental health Connection Calendar – available for download here. The calendar includes 31 daily activities intended to help everyone nurture their mental health. In addition, Carlton Cards has created a 31-day social media #ConnectionChallenge on Facebook and Instagram that will encourage social connectedness and mental health awareness. Carlton Cards will be surprising challenge participants with gifts of free greeting cards throughout October.

"Supporting the CMHA is the perfect fit for our brand since helping Canadians stay connected to the people in their life with a greeting card has been at the heart of what we at Carlton Cards have done for over a century," said Rod Sturtridge, President Carlton Cards.

This campaign will be featured in the following participating retailers: Atlantic Superstore, Brunet, Dominion, Familiprix, Federated Coop, Foodland, Fortinos, IGA, Jean Coutu, Lawtons Drugs, Loblaws, London Drugs, Maxi, Metro Ontario, PharmaChoice, Pharmasave, Real Canadian Superstore Provigo, Safeway, Save On Foods, Shoppers Drug Mart, Sobeys, Your Independent Grocer, select Walmart stores, and Zehrs Markets.

About Carlton Cards
Carlton Cards is the #1 greeting card company in Canada. For 100+ years, we've helped people celebrate all of life's special moments, guided by our purpose to make the world a more thoughtful and caring place… Every. Single. Day. We are the preferred greeting card supplier to top retailers across Canada with the following brands: Carlton Cards, Papyrus, Recycled Paper Greetings, and Cartes Carlton. For more information, please visit www.carltoncards.ca

About the Canadian Mental Health Association
Founded in 1918, the Canadian Mental Health Association (CMHA) is the most established, most extensive community mental health federation in Canada. Through a presence in more than 330 communities across every province and the Yukon. CMHA provides advocacy, programs and resources that help to prevent mental health problems and illnesses, support recovery and resilience, and enable all Canadians to flourish and thrive. For more information, please visit www.cmha.ca

For further information:  Judy Campbell, Marketing Communications, Carlton Cards, [email protected]; Emma Higgins, National Officer, Communications, Canadian Mental Health Association, Phone: 289-943-7710, [email protected]