You are currently on the:
National Site
Visit our provincial websites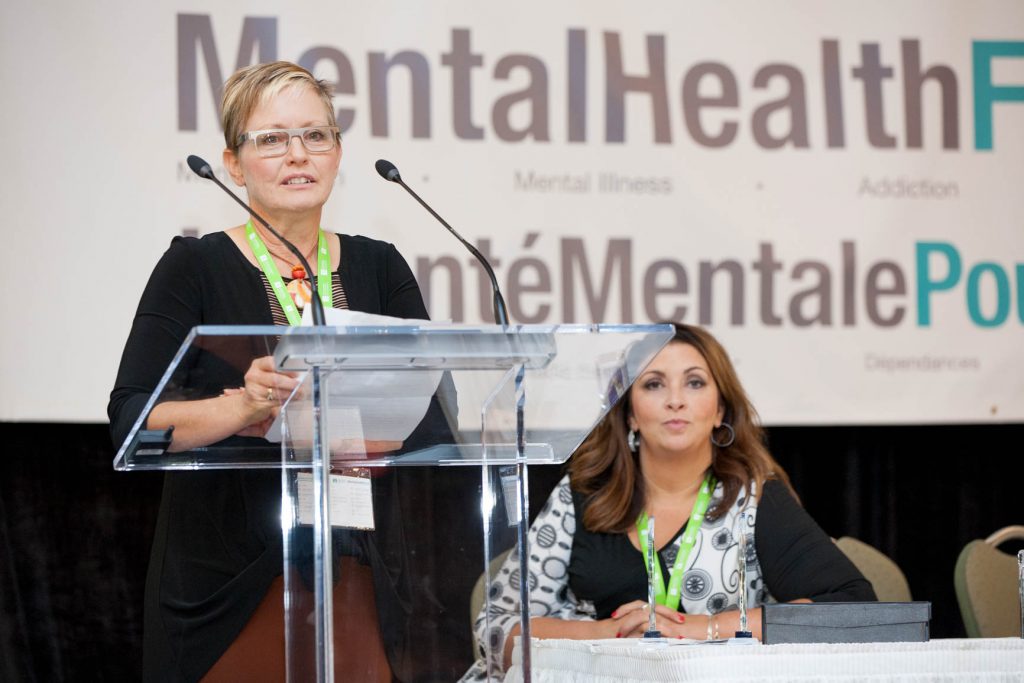 2016 CMHA National Awards
Nov 10, 2016
In recognition of excellence, innovation and outstanding contributions, CMHA presented three national awards at this year's Mental Health For All conference in Toronto. Award winners are Ruth Smith (CMHA Swift Current), Marion Cooper (CMHA Manitoba/Winnipeg) and Mark Gruchy (Newfoundland and Labrador).
As the nationwide leader for mental health, CMHA recognizes inspirational leadership, innovation and excellence in maintaining and improving mental health for all. The Strengthening CMHA Award is presented in recognition of CMHA's history, and to increase solidarity among its community locations. The award is presented to a region, branch, division or national level or an individual who has provided inspirational leadership, innovation and excellence within CMHA related to our collective goals and core functions.
Two Strengthening CMHA Awards were presented this year: to Ruth Smith, Executive Director, CMHA Swift Current Branch, and to Marion Cooper, Executive Director, CMHA Manitoba/Winnipeg. Past award winner, Christa Baldwin, Executive Director, CMHA New Brunswick, made the presentations.
The Consumer Involvement Award, awarded this year to Mark Gruchy, of St. John's, NL, honours a consumer/person with lived experience of mental health issues (pwle) who best exemplifies self-determination and a strong sense of advocacy. This award is given to a consumer/person with lived experience who has made an outstanding contribution to the involvement of consumers/persons with lived experience within CMHA and in society in general. The award honours past, present and future consumer/pwle leaders, and celebrates the voice and participation of consumers/pwles in issues related to mental health in Canada.
Clarence M. Hincks Award
Another CMHA national award – the Clarence M. Hincks Award – was presented to the University of British Columbia, for outstanding workplace mental health. UBC provides a number of mental health initiatives for students, staff and faculty, including Thrive Week, which encourages mental well-being through dialogue, awareness, healthy choices, social support and normalizing mental health challenges. The award was presented at the CMHA's Bottomline Conference in February 2016.
Meet Ruth Smith:
Executive Director of CMHA Swift Current Branch for the past nine years, Ruth Smith has played a pivotal role in building the branch, and ensuring its financial sustainability. Offering the best possible services to clients is at the core of Ruth's leadership to CMHA Swift Current. She introduced a Clubhouse model into the Swift Current Centre, in which clubhouse members have an executive that holds member meetings and solicits ideas about how the Centre can better meet members' needs. Ruth's effort and passion will be greatly missed in the community when she retires at the end of December.
Meet Marion Cooper:
Marion Cooper has over 20 years of experience in the field of mental health and addiction. She came to CMHA Winnipeg/Manitoba as Executive Director at the time of the amalgamation of the Winnipeg Branch and the Manitoba Division and led the way during this important time of transition, demonstrating tremendous leadership. She has an impressive record of providing support to persons with lived experience.
Meet Mark Gruchy:
Receiving the CMHA Consumer Involvement Award was Mark Gruchy, a lawyer from St. John's, Newfoundland and Labrador. He served as President of CMHA-NL Division for six years, is now immediate past President. He also served as a member of the CMHA National Board of Directors. An inspirational spokesman for mental health issues, he is Co-Chair of the newly formed Community Coalition for Mental Health (CC4MH, the Coalition) which seeks a meaningful public policy response to the health challenges that affect the province of Newfoundland and Labrador. In consistently identifying as a person with a mental illness, Mark has made major advancements in the public perception of mental health conditions and has also been the catalyst for more people identifying publicly.