You are currently on the:
National Site
Visit our provincial websites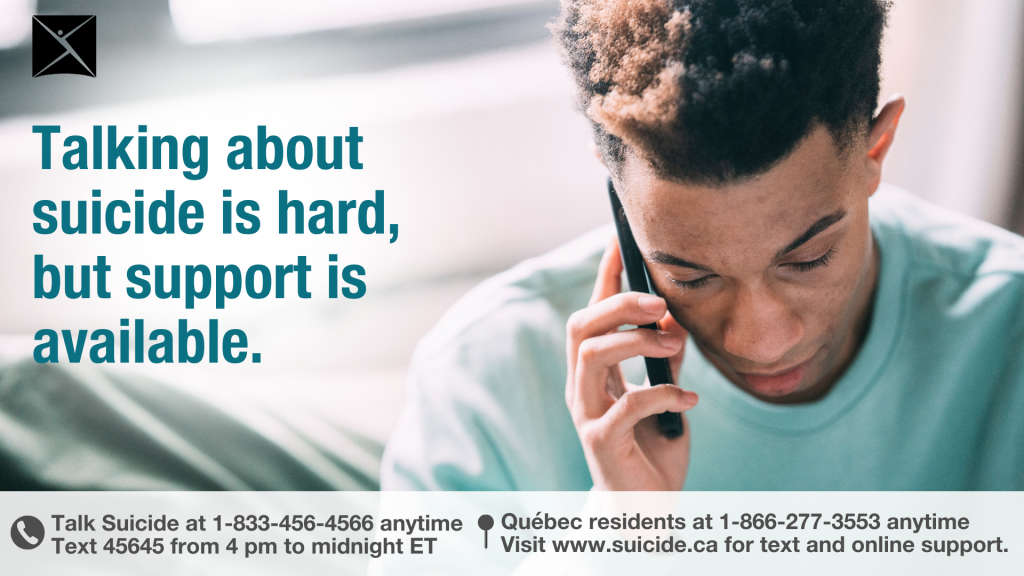 Suicide prevention requires investment in community supports: a message for the federal government this World Suicide Prevention Day
Sep 7, 2023
September 10 is World Suicide Prevention Day, an opportunity to honour people and communities impacted by a suicide attempt or loss. It is also a chance to raise awareness, reduce stigma around suicide, and, importantly, learn how to support those who may be struggling.
Every day in Canada, an average of 12 people die by suicide.[1] Suicide is a health crisis, but it is preventable. Starting November 30, 2023, people in suicidal or mental health distress will have access to immediate counseling through a national three-digit suicide and mental health crisis helpline. In the spirt of the theme of World Suicide Prevention Day, "," the Canadian Mental Health Association (CMHA) welcomes and applauds the Government of Canada's important action.
We also wish to highlight the importance of providing complementary supports for Canadians in emotional distress, including those thinking about suicide. We know that some callers to the 3-digit line will require additional community mental health resources like crisis beds, mobile crisis response team support, referral to housing, income or food supports, counselling and other programs and services. These are essential community services that do not currently receive adequate funding.
On this World Suicide Prevention Day, the Canadian Mental Health Association is calling on the federal government and the new Minister of Mental Health and Addictions, the Honourable Ya'ara Saks, to create a $950M "Care after the Call" Fund over 5 years for suicide and mental health crisis prevention and response services in communities.
When community-based services are adequately funded, people can get the care they need, when they need it, without adding strain on emergency departments. The "Care after the Call" fund would complement the 3-digit line by providing supports that help people recover. It would also work to prevent suicide and mental health crises in the first place by investing in mental health literacy, social and emotional learning, suicide prevention and life skills training, peer support, recovery supports, and more.
See the following resources for more information about suicide prevention frameworks, action plans, and strategies:
Toolkit from the Centre on Suicide Prevention: About Suicide Prevention
Information note: Suicide prevention initiatives in Canada
Join CMHA in advocating for more funding for suicide prevention and mental health crisis response through the Act for Mental Health campaign. Sign up to stay informed.
If you are experiencing a mental health crisis yourself, or know someone who is, there is hope and help. Please call Talk Suicide at 1-833-456-4566 anytime or text 45645 4PM-midnight ET.
For residents of Québec, call 1-866-277-3553 or visit www.suicide.ca for support by text and online chat.
The 3-digit line will launch November 30.
---
[1] Statement from the Public Health Agency of Canada on the Canadian Radio-television and Telecommunication Commission's decision to implement a national three-digit number for suicide prevention and mental health crisis. 31 August 2022.