You are currently on the:
National Site
Visit our provincial websites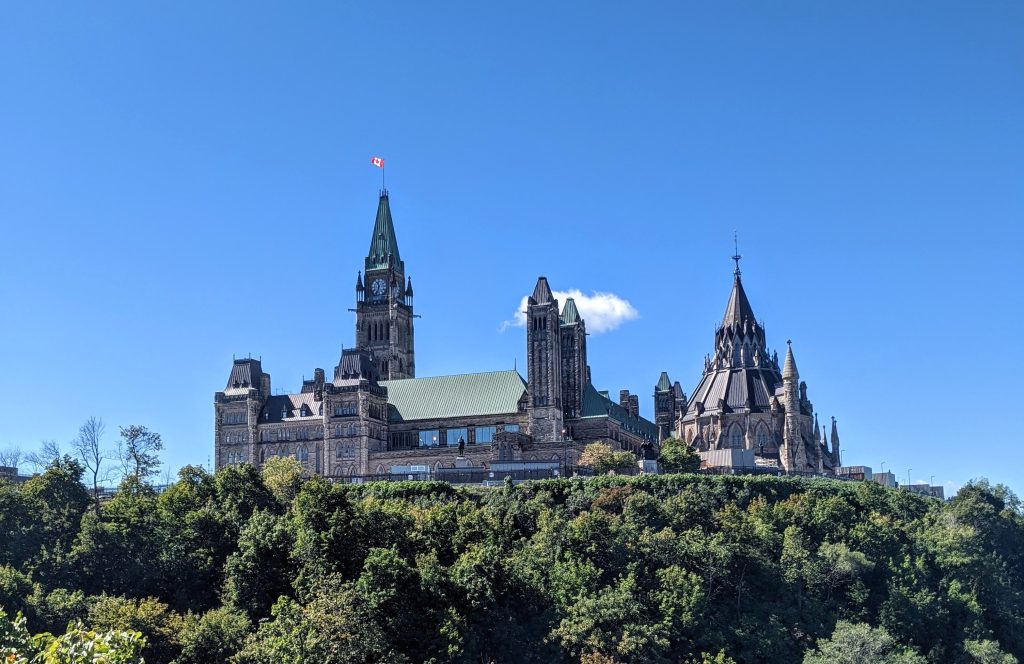 Spring 2023 federal advocacy report
Aug 3, 2023
Mental health and addictions intersect with a broad range of government policy issues. Sometimes the link to policy is obvious—like that mental illness is a factor in homelessness—but the connection is not always clear. At the Canadian Mental Health Association (CMHA), our advocacy makes those connections for government. We help political decision-makers understand how a policy will affect people living with mental illnesses and substance use health disorders, as well as the caregivers and mental health workforce that support them.
CMHA National's federal advocacy centres on 'community' mental health care— because people need mental health care beyond what is delivered in hospitals and doctors' offices. Community mental health care is the essential help people require before, during and after medical care. This includes programs that help prevent mental illness and services that make recovery possible, like peer support, counseling, and assistance with housing and employment.
As leaders and experts in community mental health care, CMHA National works with Parliamentarians and the civil service as they shape policies and legislation affecting mental health, and advocates for investments in mental health and the expansion of community-based mental health programs and services.
The spring 2023 Parliamentary session, which ran from late January to June, offered many opportunities for productive conversations with federal decision makers about mental health care. What's more, the new health accords with the provinces and territories presented an important moment for our advocacy, as these agreements committed billions of dollars for timely, quality mental health, substance use health, and addictions services.
Here is a snapshot of our advocacy—and our impact—in Ottawa this past spring:
Federal investment of $25 billion over 10 years to advance shared health priorities with the provinces and territories
Since 2021, CMHA has advocated for a new transfer to provinces and territories to allow for urgent investment in mental health and substance use health care, particularly to reduce wait times, address inequitable access in Northern and rural areas, and expand community care. Our call for specific investments was not fully realized, but our continued advocacy helped ensure mental health care was a priority in the health accords. We're now working with federal, provincial, and territorial leaders to ensure the dedicated funds go to community-based mental health care, and that counseling, psychotherapy, and other out-of-hospital mental health services become part of public health insurance plans.
A new Canada Disabilities Benefit becomes law
The federal government is creating an income supplement to reduce poverty for low-income Canadians, aged 18-64, who have disabilities. CMHA supported this disabilities benefit before the Senate and proposed strengthening the legislation for people with mental illnesses and substance use disorders, including making the link between unemployment, poverty, and episodic mental illnesses—such as schizophrenia and bipolar disorder— and ensuring their eligibility for disability programs. We are talking with the minister responsible to ensure people living with a mental illness or substance use disorder are consulted as the government develops and designs the new benefit.
RCMP consultation on body-worn cameras
The Royal Canadian Mounted Police (RCMP) invited CMHA to consult on the use of cameras worn on the body, including privacy considerations and other factors relevant to the people we serve. Body-worn cameras are intended to capture an accurate and unbiased audio/video account of incidents involving police. Given the inadequacy of mental health care and treatment in Canada, the RCMP is called increasingly to respond to incidents involving mental health and substance use-health related incidents. The consultation with the RCMP is part of CMHA's broader work with public safety officials regarding alternative approaches to police-led crisis responses, such as community and peer-led crisis response teams.
Updating the Federal Framework on Suicide Prevention
The Centre for Suicide Prevention, a branch of the Canadian Mental Health Association, provided expert testimony to the Senate on the need to establish a national suicide prevention strategy. The testimony also emphasized the integral role crisis lines play in connecting people to follow-up mental health care. Given this responsibility, it is crucial that mental health supports are available in communities across Canada, as the 988-suicide prevention and mental health crisis line will launch in November 2023. In anticipation of a federal suicide prevention action plan in the fall, we have met with the Public Health Agency of Canada and the minister responsible for mental health to discuss the rollout of 988 and other suicide prevention measures and investments.
Access and education in the cannabis legislative review
An Expert Panel assessing Canada's cannabis legislation requested input from CMHA given our expertise in public health, substance use health, and justice. We outlined concerns about the prescription of medical cannabis for PTSD and other mental health issues in the absence of robust evidence demonstrating efficacy. With an eye to minimizing harms and safeguarding public health, we recommended further research on the impacts of (prolonged) cannabis use on mental health, and the collection of better data on the frequency of consumption. We also addressed issues within the justice system, including continued testing for cannabis use (despite legalization) in Drug Treatment Courts and an absence of substance use health care during incarceration. Finally, we recommended that revenues generated through cannabis sales should be allocated to prevention programs.
CMHA in the news
Advocacy has a real impact, but we can't do it alone. Help CMHA change the mental health and substance use system. Join the Act for Mental Health campaign here.
About CMHA
The Canadian Mental Health Association (CMHA) is the most extensive community mental health organization in Canada with a presence in more than 330 communities across every province and the Yukon. CMHA provides advocacy, programs and resources that help to prevent mental health problems and illnesses, support recovery and resilience, and enable all Canadians to flourish and thrive.
For inquiries:
SM Leduc (elle/she)
National Government Relations Advisor
[email protected]