You are currently on the:
National Site
Visit our provincial websites
Canadian Mental Health Association (CMHA) Honours Mentally Healthy Workplaces 
Mar 12, 2019
FOR IMMEDIATE RELEASE
Canadian Mental Health Association (CMHA) Honours Mentally Healthy Workplaces
Wajax Receives CMHA's 2019 Workplace Excellence Award
VANCOUVER (B.C.) March 12, 2019: One of Canada's leading industrial products and service providers, Wajax, today received the CMHA 2019 Workplace Excellence Award in recognition of its unwavering commitment to fostering a safe and supportive work culture for its employees.
The annual award was presented this year by Jordan Friesen, National Director of Workplace Mental Health at CMHA, to Irene Stretton, Director of Total Rewards at the 16th annual Bottom Line Conference, which brings together business leaders, union representatives, policy makers and researchers to share real experiences and successes in improving workplace mental health in Canada.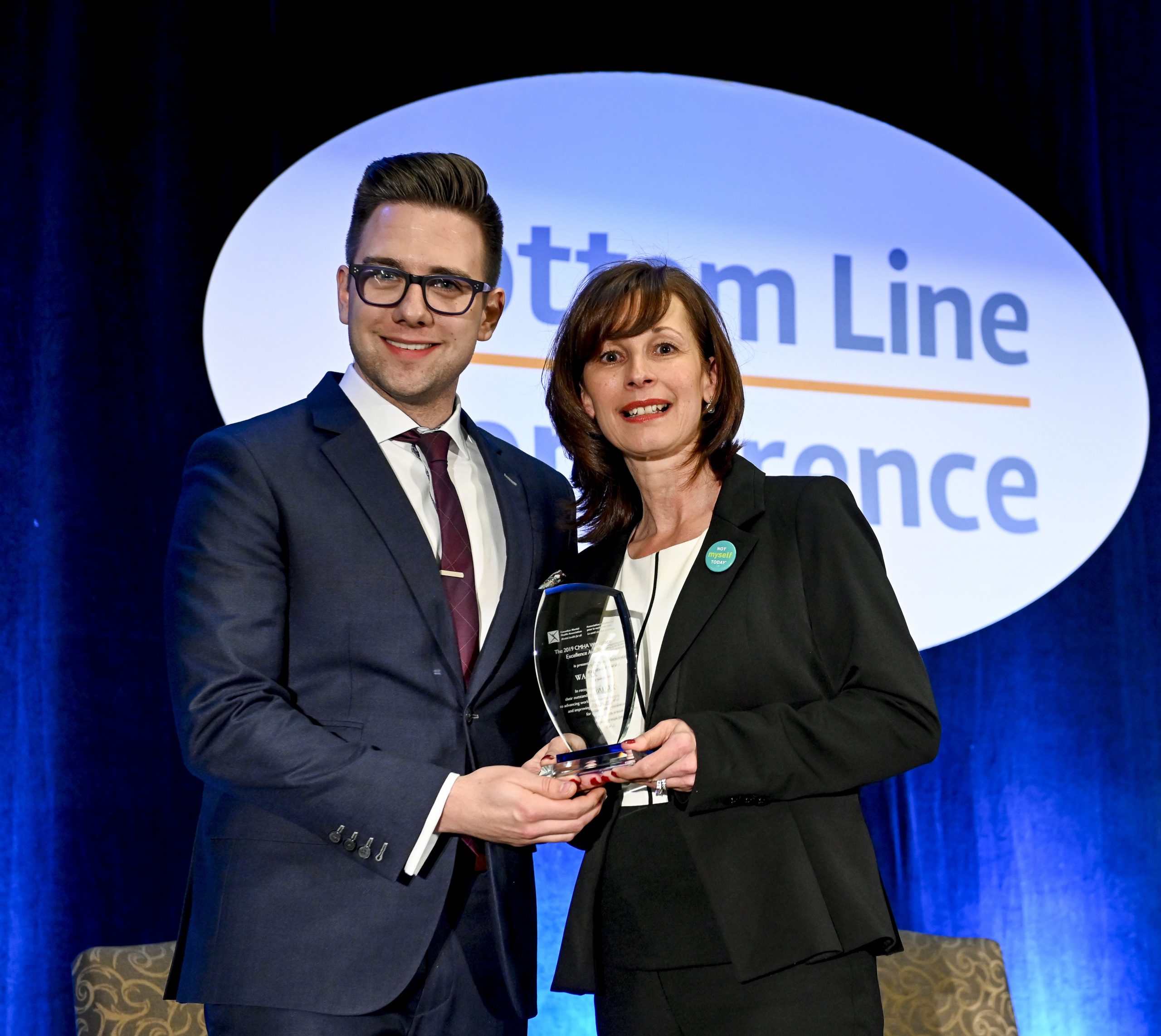 "Poor mental health and mental illness are costly for individuals, employees and the economy," says Friesen. "The great news is, investing the mental health of your workforce is a win at every level, resulting in enhanced productivity, lower costs associated with disability, absenteeism and presenteeism. Plus, it's just the right thing to do."
This responsibility—and opportunity—became clear to Wajax in 2016 when they analyzed their Employee and Family Assistance Plan usage and Health Risk Assessments. As a leader in industrial solutions, they'd long demonstrated a commitment to physical safety and injury prevention, and decided to extend this commitment to mental health and safety. As a result, Wajax developed a three-year strategic plan that shifts the way they do business to address health and wellness, including new policies and processes as well as regular wellness activities, health screening clinics and increased access to wellness resources.
"We're extremely proud to be recognized by the Canadian Mental Health Association for our commitment to fostering a safe and healthy work environment," says Vice President of Environment, Health and Safety at Wajax, Cristian Rodriguez. "Wajax believes the strength of our company is in its people. That's why we continue to take measures towards ensuring an organization where all employees can feel safe and secure, mentally and physically."
One of the tools used by Wajax to promote ongoing workplace wellness is CMHA's Not Myself Today, a workplace initiative that helps shift workplace culture and stimulate meaningful discussion around mental illness and mental health. The initiative is just one of the many programs offered by CMHA to help employers cut down absences, increase employee retention and improve productivity.
In addition to demonstrating improved mental health of its employees over the past year through a variety of metrics, Wajax has experienced a culture shift which has its employees speaking more freely, engaging with wellness resources and providing feedback for improvements.
"Canadians spend a third of their lives at work, and this time should be spent in both physically and psychologically safe work environments," says Dr. Patrick Smith, National CEO, CMHA. "Through this award, we recognize Wajax's outstanding dedication to workplace wellness, and commend them for taking these extra steps to allow their employees to truly thrive."
About the Canadian Mental Health Association
Founded in 1918, the Canadian Mental Health Association (CMHA) is the most established, most extensive community mental health organization in Canada. Through a presence in more than 330 communities across every province and one territory, CMHA provides advocacy, programs and resources that help to prevent mental health problems and illnesses, support recovery and resilience, and enable all Canadians to flourish and thrive. For more information, please visit www.cmha.ca
-30-
For more information please contact:
Katherine Janson
National Director of Communications
(416) 646-5557 ext. 24923
[email protected]