You are currently on the:
National Site
Visit our provincial websites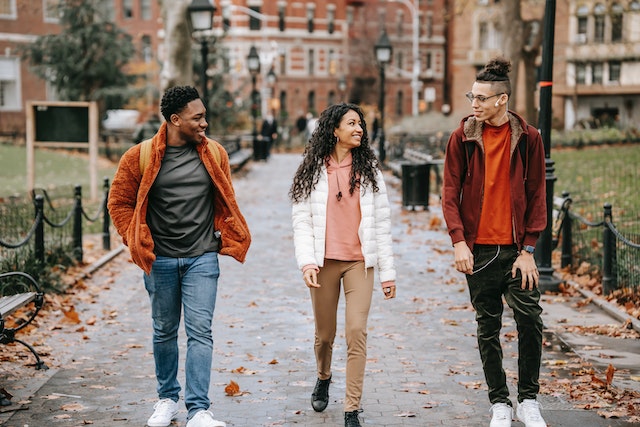 Campus Peer Support Pilot Project: students helping students with their mental health 
Aug 29, 2022
Post-secondary students are among those hit hardest by the COVID-19 pandemic. They have faced social isolation, job insecurity, financial hardship and challenges with virtual learning. These problems have had a profound impact on their mental health and well-being. 
In May 2022, the federal Minister of Mental Health and Addictions, the Honourable Dr. Carolyn Bennett announced an investment of $2 million for a three-year Campus Peer Support pilot project led by the Canadian Mental Health Association (CMHA). 
The pilot program will offer a specialized peer support training and certification on five Canadian campuses, in partnership with local CMHA offices, providing post-secondary students with the tools they need to support each other's well-being.
To achieve this, CMHA will work closely with the institutions to train and empower students who have lived and living experience of mental health and/or substance use health issues, allowing them to support fellow students – or peers – who are facing similar issues.
What does the pilot project involve? 
The innovative pilot project will provide in-person and virtual training as well as certification to 100 student peer supporters across five campuses. The training materials will be co-designed with students, campus partners and community experts in peer support. Facilitators will be trained to deliver the curriculum so that the project can continue beyond the pilot phase. The program will also be evaluated. 
Which campuses are participating in the pilot?
University of Prince Edward Island (UPEI) (Charlottetown, PEI)
University of New Brunswick (UNB) (Fredericton & St. John, NB)
Trent University (Peterborough, ON)
Medicine Hat College (Medicine Hat, AB)
University of British Columbia (Vancouver, BC)
Pilot sites are implementing the project in ways that serve their own community and context.
What is peer support?
According to Peer Support Canada, peer support is the emotional and practical support between two people who share a common experience. 
What is a campus peer supporter? 
The Campus Peer Support pilot project defines peer supporters as those who have faced mental health and/or substance-use health issues and intentionally share their lived experience and recovery journey with other students as part of their formal role. 
Why is peer support important?  
Peer Support plays an essential role in enhancing hope, promoting personal growth, increasing self-management, supporting mental health recovery, expanding social networks, and improving quality of life.  Empathy is a fundamental principle of peer support.  
Students want to see themselves reflected in the mental health supports available on campus. Campus Peer Supporters will be able to connect on a social, emotional and non-clinical way to provide support and share experiences.  They will focus on fostering a sense of connection and belonging so that their peers feel seen, heard and valued.  
How will Campus Peer Support support the mental health of post-secondary students?  
Campus Peer Support will help expand mental health supports on campus and make them more accessible. Peer supporters will work in tandem with counselling and professional services on campus and help connect students to supports available in the wider community and via their local CMHA. Campus Peer Support aligns with the principles of the National Standard on Psychological Health and Safety for Postsecondary Students released by the Mental Health Commission of Canada in 2020. These guidelines help post-secondary institutions to support students' mental health and well-being.   
What leaders are saying about Campus Peer Support:
"We know that post-secondary students are among those hit hardest by the pandemic – with social isolation, remote learning and economic insecurity becoming part of their everyday life. Our government's support to the Canadian Mental Health Association's Campus Peer Support pilot project will be a valuable addition to existing mental health services already offered to students and will empower them to support each other by creating a sense of community and belonging on campuses across the country."
The Honourable Carolyn Bennett 
Federal Minister of Mental Health and Addictions and Associate Minister of Health 
"With the pandemic, the already intense pressures on students have become extreme, at a time when their support networks have also been eroded. The Canadian Mental Health Association thanks the Minister of Mental Health and Addictions for funding this important peer support pilot project on Canadian post-secondary campuses. When a young person is struggling, having the support of someone who has been there can change – and even save – that person's life."
Margaret Eaton
National CEO, Canadian Mental Health Association
For more information, please contact us at [email protected].