You are currently on the:
National Site
Visit our provincial websites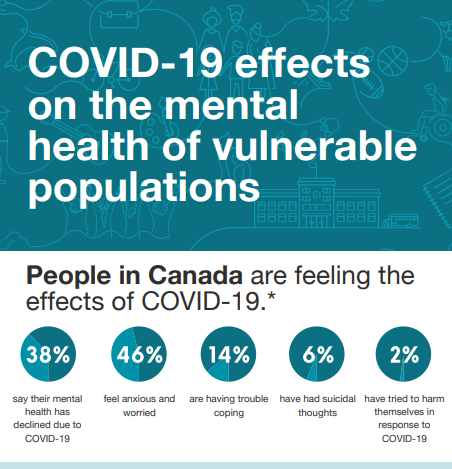 COVID-19 effects on the mental health of vulnerable populations: Wave 1
Jun 24, 2020
The pandemic has caused intense stress and disruption for all people in Canada, and is causing pronounced mental health concerns, including suicidal thoughts and feelings, in various subgroups of the population, including parents, those with existing mental illness or mental health issues, Indigenous people and those with a disability or who identify as LGBTQ+. This is according to a new nationwide survey on the mental health impacts of COVID-19, released by the Canadian Mental Health Association (CMHA) in partnership with UBC researchers.
To access a summary report of the Wave 1 findings, please click here.
To access a summary of the Wave 2 findings, please click here.